René Phillips "Chess Gym" video series!
Chess photojournalist Frank Johnson has launched a new blog at chess-coach.net and posted an encouraging message on chess coach and Katrina Hurricane survivor René Phillips. A few years ago Phillips, was hit by a devastating tragedy that would change his life forever.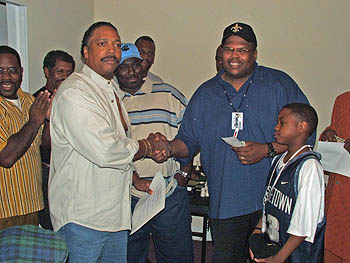 Fernwood Jones making presentation to René Phillips. This was an event held by chess players in Philadelphia to help René recover from his losses during Hurricane Katrina. Photo by Glenn Bady.
Phillips left behind his life in New Orleans and trekked up to Philadelphia where he was welcomed by the chess community. After roughly a year in Philly, he then settled in Atlanta where he is now building a reputation as a chess coach. In June, Phillips will return to New Orleans to rebuild life in his native town. A former New Orleans police officer and SWAT team member, Phillips has launched a number of videos teaching different themes in an effective format.
Many can be found on chessvideos.tv under the moniker, "The Chess Gym." Following is one such video Phillips has done. He offers customized services at his website. Enjoy!
Video by Rene Phillips/The Chess Gym
Visit "The Chess Gym"