Carlsson at European Championships
Another Drum Major on the move!
Pontus Carlsson is in a field of 337 male players competing for the crown of European Champion. There are 159 players in the female section. According to ChessBase…
The IX European Individual Chess Championship is taking place in Plovdiv, Bulgaria, from April 21st to May 3rd 2008, with one free day, on Monday, April 28. The tournament halls are in the Novotel Plovdiv. The championship is an 11 round Swiss, playing time is 90 minutes for 40 moves plus 30 minutes for the rest of the game with an increment of 30 seconds per move, starting from move one. The total prize fund in the men's section is 92,200 EUR (first 15,000, 2nd 10,000, third 8,000, fourth 6,500, fifth 5,500 etc.) and in the women's section 34,500 EUR (first 6,000, second 5,000, third 4,000, fourth 3,000, fifth 2,000, etc.). According to Bulgarian law all prizes are taxable (10%).
Carlsson is having a rough go it so far and after eight rounds he is on -1. He has a scintillating win against Bulgarian FIDE Master Valeri Lilov and a wild loss to Alexander Moiseenko of the Ukraine.

Carlsson,P (2513) – Lilov,V (2385) [B46]
9th European Individual Ch (m) round 5 (5.116), 25.04.2008
1.e4 c5 2.Nf3 Nc6 3.Nc3 e6 4.d4 cxd4 5.Nxd4 a6 6.Nxc6 bxc6 7.Bd3 d5 8.0-0 Nf6 9.Re1 Bb7 10.b3 Bb4 11.Bd2 Qa5 12.a3 Bxc3 13.b4 Qc7 14.Bxc3 Qf4 15.Bd2 Qc7 16.e5 Nd7 17.Qg4 g6 18.Qh4 h5 19.Bg5 Nb6 20.Qf4 c5 21.Qf6 Rg8 22.bxc5 Qxc5 23.Rab1 Nd7 24.Qf4 Bc6 25.c4 d4 26.Bf1 a5 27.Rbd1 Qxa3 28.Rxd4 Qc5 29.Red1 a4 30.g3 a3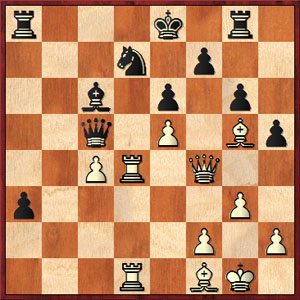 31.Rxd7! Bxd7 32.Rxd7 Kxd7 33.Qxf7+ Kc6 34.Bg2+ Kb6 35.Qb7+ Ka5 36.Bd2+ Ka4 37.Bc6+ 1-0 (See Game)
Moiseenko,A (2650) – Carlsson,P (2513) [A60]
9th European Individual Ch (m) round 6 Plovdiv BUL (6.72), 26.04.2008
1.d4 Nf6 2.c4 e6 3.g3 c5 4.d5 exd5 5.cxd5 b5 6.e4 Nxe4 7.Qe2 Qe7 8.Bg2 Nd6 9.Be3 Na6 10.Nc3 b4 11.Na4 g6 12.Nxc5 Nxc5 13.Bxc5 a5 14.Bd4 Rg8 15.0-0-0 Qxe2 16.Nxe2 Nb5 17.Be3 d6 18.Be4 Ba6 19.Rhe1 Kd7 20.Kb1 Bg7 21.Bc2 Rab8 22.Ba4 Kd8 23.Rc1 Na3+ 24.Ka1 Bb5 25.Bg5+ f6 26.Nd4 fxg5 27.Ne6+ Ke7 28.Rc7+ Kf6 29.Nxg7 Bxa4 30.Re6# 1-0 (See Game)
Official Site: https://www.eicc2008.com/en/