Odion Aikhoje launches blog!
Nigerian IM Odion Aikhoje has launched a very interesting blog which features everything from chess to recipes! He also has a nice collection of photos at several major events including the All Africa Games and the Olympiad. Aikhoje told me that he is in London, England studying in a Sports Management MSC program. He then gave me these sobering words,
"Chess really has an uphill struggle in trying to force it's way into the mainstream of public awareness, be it as a sport or even as a game. I have been trying to examine ways in which to utilize general sports management academic perspectives to make a case for Chess and it's difficult."
He states that there are some viable ideas and the chess world will certainly listen. This topic has been the subject of many blog debates and became acute during the rift in the chess world. Chess seems to have made a rebound, but the question remains on how chess will draw sponsorship. With national federations crying for sponsorship, a marketing strategy for chess becomes paramount.
Aikhoje won a gold man in the 1998 Chess Olympiad in Elista. He is most notably known as a blitz player and his blog is titled, "My Life in Chess: The Memoirs of a Blitz Fanatic." As Mark Rubery described him years ago, he has "the non-stop patter of the young Cassius Clay." Odion cuts a dashing presence with his 6'4″ (1.83m) stature and congenial persona. His blog is an outgrowth of his passion for chess. Check out the link here!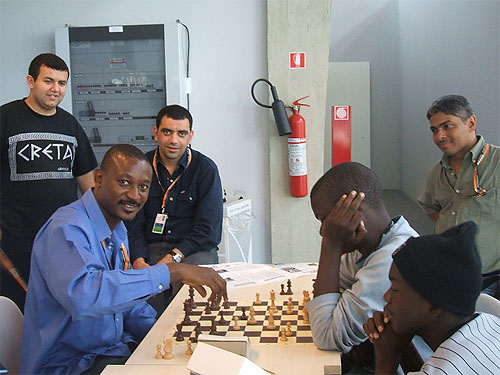 IM Odion Aikhoje blitzing with Zambia's Chitumbo Mwali at 2006 Olympiad.
Jamaica's Shane Matthews is standing on the right.
Photo from odirov.com