Former World Champion Garry Kasparov (pictured left) is in the latest issue of Newsweek magazine talking about the political environment in Russia. Currently, he is leading an opposition movement to unseat President Vladimir Putin. Kasparov has been an outspoken critic of the Putin government and states that Russia has deteriorated into a police state. He gave an interview with Newsweek's Steven Levy where he gave candid answers and address the chess/politics parallels.
When asked if he felt to be in danger, he stated, "We're all in danger." Such an evasive answer is probably rooted in the fact that Kasparov knows the danger and doesn't want to think of it. Of course, that would not be in his character, but after getting hit on the head with a wooden chess board (a couple of years back) and tossed in jail, he certainly realizes the danger.
Kasparov retired in 2005 leaving behind the most impressive record of chess dominance in modern times. His 22-year reign will most likely stand for an eternity. In the article he was asked about his infamous match with Deep Blue and he stated, "I believe they cheated." His retirement left the chess world with somewhat of a vaccuum without a champion and in total chaos.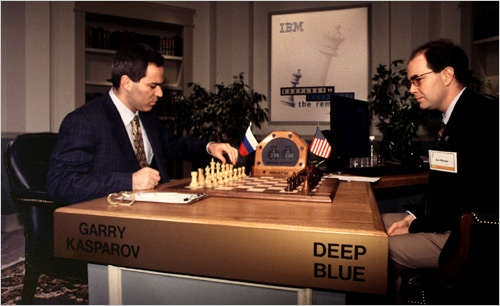 Garry Kasparov vs. Deep Blue in the controversial 'Man vs. Machine' match.
Three years later, Viswanathan Anand is the World Champion and the chess world is different from the one he left. Former Kasparov rivals like Vladimir Kramnik, Veselin Topalov and Vassily Ivanchuk are still at the top of the sport. Young lions such as Magnus Carlsen, Teimour Radjabov, Hikaru Nakamura and Sergey Karjakin represent the future of chess.
Kasparov still follows chess, has authored the Predecessors series and still writes articles. Some say that Kasparov retired just in time while others have stated that he could have lasted a few more years if he had given up his political amibitions. What do you think about Kasparov's quest to unseat Putin? Is this the best use of his talent? Thoughts?