Nakamura storms to victory in Gibraltar!
Hikaru Nakamura at 2008 Gibtel Masters.
Photo by ChessBase.
I guess naysayers will be quieted somewhat after another victory by American Grandmaster, Hikaru Nakamara. Nakamura (FIDE 2670) has been playing very well lately and will soar toward 2700 after winning the Gibtel Masters tournament in Gibraltar, Spain.
There is still some doubt that Nakamura is as strong as Magnus Carlsen, Teimour Radjabov or Sergei Karjakin. Certainly, his three peers have more experience in strong tournaments, but Nakamura has held his own in strong competition. In fact, he absolutely crushed Karjakin in a match in 2004. He faired well in the 2004 FIDE Knockout and has dominated the American circuit.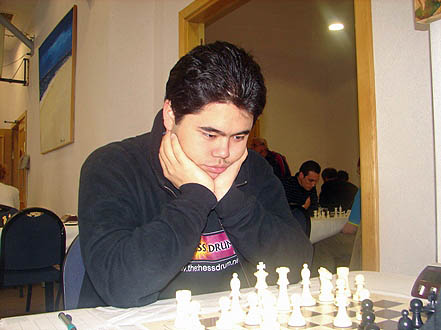 Hikaru Nakamura at 2007 Gibtel Masters wearing a very nice-looking shirt! He would win the 2008 tournament over Bu Xiangzhi in a blitz tiebreak. Photo by ChessBase.
Last January, he got joint 2nd in Gibraltar and returned this year to beat out Bu Xiangzhi in an playoff. Last October, he won a strong tournament in Barcelona and uncorked a brilliant queen sacrifice against Michal Krasenkow. A week later, he then won a strong rapid tournament in Corsica. The only thing missing is that he has not played elite competition on a regular basis.
With his win in Gibraltar, he will approach the magical 2700. If Nakamura gets more opportunities, he will certainly be a threat to break into the top 20.
Nakamura vs. Bu in blitz tiebreak.
Video by Zeljka Malobabic of MonRoi.