2007 African Championships (Winhoek, Namibia)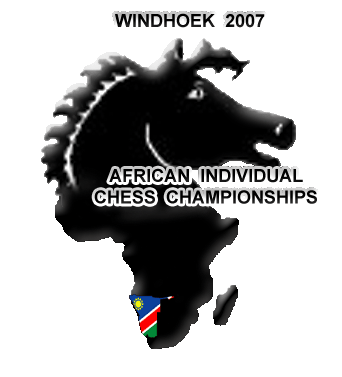 Here is an excerpt from a press release from the Namibian Chess Federation website:
The African Individual Chess Championships 2007 will be held in Windhoek at the Safari Court Hotel, Kuiseb 1 & 4 rooms this coming weekend. The event starts with an opening ceremony and a cocktail function afterwards.
The field includes 3 Grandmasters, 17 International Masters, 4 FIDE Masters, 1 Candidate Master 17 FIDE rated players and 5 unrated players in the open section. 1 Woman Grandmaster, 6 Woman International Masters, 1 Woman FIDE Master, 1 FIDE rated player and 12 unrated players.In the Open section we have the favorites GM Ahmed Adly and GM Amin Bassem from Egypt who recently won the UAE Championships, IM Amon Simutowe from Zambia who just won the Max Euwe Stimulans in Arnhem (the Netherlands) where he scored his 3rd GM norm with a 2687 rating performance, IM Kenneth Solomon National Chess Champion of South Africa and IM Watu Kobese from South Africa.
In the Women's section we have WGM Sabure Tuduetso from Botswana, the African Woman's Champion, WIM Melissa Greef and WIM Anzel Laubscher from South Africa, WIM Sohair Basta and WIM Mona Khaled from Egypt, WIM Amina Mezioud from Algeria.
Press Release and coverage here!