2007 World Open: The Final Stretch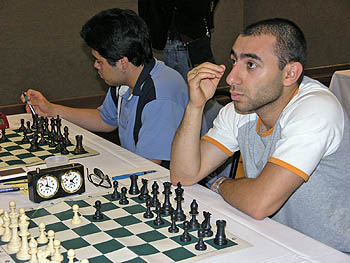 Hikaru Nakamura and Varuzhan Akobian pawn off in the 7th round. Both games (vs. Alexander Stripunsky and Leonid Yudasin respectively) were drawn. Photo by Daaim Shabazz.
* * *
Going into the last round of the World Open, there is a five-way tie for 1st with Hikaru Nakamura, Leonid Yudasin, Varuzhan Akobian, Alexander Stripunsky and Sandipan Chanda on 5½-1½. There is a massive seven-way tie for 2nd place and going into the last two rounds (5-2) so the tournament is still wide open. Chanda has won three games in a row and will no doubt get a stiff test in round eight. Nakamura drew with Akobian and Stripunsky and in the latter game some very interesting tactics occurred.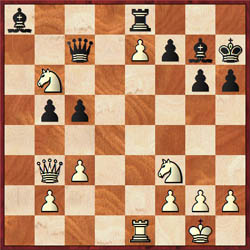 Saddled with time pressure, Stripunsky looks to be down a piece after Nakamura's 1…Bxf3, but he enters a line beginning with 2.Qxf7 [perhaps 2.gxf3 is a good try given that 2…Qxb6 3.Qxf7 gives strong initiative.] 2…Bc6 3.Re6 Qxb6 4.Rxg6 [Fritz suggests 4.Qxg6+ Kg8 5.Rxc6 Qb8 6.Qe6+ and gives white the advantage] 4…Rg8 5.Rxg7+. Here Stripunsky claimed a draw and gave a back and forth motion with his finger. A befuddled Nakamura looked then he saw the perpetual check. On 5…Rxf7, white plays 6.Qf5+ Kh8 7.Qf8+ etc.
On another note, I did an audio interview with GM Mark Paragua of the Philippines and got an interesting game from IM Emory Tate against IM Salvijus Bercys. It was another creative gem with a lot of tactical subtleties. I'll provide the game with the analysis that he gave.