Egypt takes Team Gold!
Playing Site… Agura Hotel
Bolstered by a solid team of International Masters, Egypt  held the lead throughout and coasted to a gold medal performance at the 8th All-Africa Games with 31½ match points; Algeria took thebronze with 28½; Zambia took the bronze with 27. 
IM Fouad El-Taher, the continent's 2nd highest-rated player won the gold on board #1 with 5½/6 (91.67%). Silver medalist Algeria was lead by board #2 Adlane Arab with 8/9 (88.89%). Zambia's IM Amon Simutowe  won the board #1 silver medal with 7½/9 (83.33%) while his team settled for the bronze medal.

Other golden performances were turned in by Nigerians IM Odion Aikhoje on board #2 with 5½/6 (91.67%) and Bunmi Olape on board #3 with 6/7 (85.71%). Khaled Ben Nasser of Libya scored a perfect 7/7 on board 6. IM Pedro Aderito of Angola scored 7/9 (77.78%) for a bronze on board #1.
New Faces on the Scene
One surprise came from Côte d'Ivoire playing in their first international tournament. Francophone African countries are known more for their skill at 10×10 draughts than chess. However, Ivorian Simplice De Gondo created a stir by defeating Angola's IM Eugenio Campos and Zambia's Stanley Chumfwa? two strong players.
DeGondo's teammate Augustine Konan defeated Algeria's IM Kamel Sebih, who lost a piece in the opening and disgracefully made the Ivorian promote to two Queens and a Rook before getting mated. Côte d'Ivoire's only win came at the expense of Portuguese-speaking São Tomé e Principe who also made their international debut. Sierra Leone attempted to field a team but had to withdraw when only two players registered.
African Battlegrounds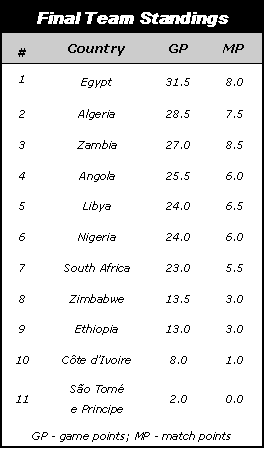 There were some interesting battles taking place throughout the tournament as many of these teams have faced each other in regional tournament play or the biennial Olympiad  tournaments. Thus, the players are also familiar with individual styles of their competition.
One of the most intriguing battles came in the very first round when two of Africa's top players battled. The Simutowe-El-Taher match was exciting with many sorties such as 17?h6!? and 22?d5!  The Egyptian would carry the initiative and get the win. This would turn out to be the margin of victory in the board #1 gold medal.
Aikhoje took advantage of some "home-cooking" and had a fine tournament. If one has examined Aikhoje's games, it should be clear that he is very dangerous with the black pieces. If you examine his games versus 2001 African Junior Champion IM Ahmed Adly (Egypt) and Adlane Arab (Algeria), the rook and knight attacking patterns are similar to Jackson-Aikhoje (British Ch., 1999).

Pot of Gold!
Egypt certainly added to the cache of gold taken from the All-Africa Games (218 medals overall; 81 gold) with a team medal and also four individual medals (two each in blitz and individual). With 16-year old star  IM Ahmed Adly, Egypt's future looks bright and until the next African Championships, will remain, "The Valley of the Kings."
Congratulations to Egypt on their gold medal winning performance!
African Chess Championships
Selected Games
IM Amon Simutowe (ZAM) – IM Fouad El-Taher (EGY), 0-1
IM Oladapo Adu (NGR) – Yiman Abera (ETH), 1-0
IM Ahmed Adly (EGY) – IM Odion Aikhoje (NGR), 0-1
Abebaw Kebede (ETH) – IM Kamel Sebih (ALG), 0-1
Adlane Arab (ALG) – Stanley Chumfwa (ZAM), 1-0
Adlane Arab (ALG) – IM Odion Aikhoje (NGR), 0-1
Spencer Masango (ZIM) – IM Essam El Gindy (EGY), 0-1
Simplice De Gondo (CIV) – Stanley Chumfwa (ZAM), 1-0
Simplice De Gondo (CIV) – IM Eugenio Campos (ANG), 1-0