Every two years, FIDE hosts the Olympiad with a chief organizing body. It is like no other tournament, so generally no expense is spared to make it successful. Most everyone was anticipating the Tromso Olympiad in the idyllic and quaint city. Besides it is the home country of World Champion Magnus Carlsen, so it was obvious that the tournament would receive worldwide attention.
The movie "Divergent" was a good… diversion on the seven-hour plane ride from Newark to Oslo.
When planning for the Olympiad, I registered for my journalist credentials on chess24.com, a relatively new project. Months ago Macauley Peterson sent me an e-mail introducing the site and it appeared to have great potential. One of things I can say is that chess24.com coverage of Olympiad was superb. The website was well-done easy to navigate and apart from the few broadcast glitches the productions were professional. I actually got to see Macauley in the production room and it is a clear contrast from what we see online.
I had just finished playing in the U.S. Open in Orlando when I made it back to Tallahassee and began immediately preparing for Tromso. I would have to drive two hours to Jacksonville to get my plane to Newark, New Jersey… then from Newark to Oslo, Norway and then on to Tromso. I actually missed my initial flight by a few minutes and had no option but to stay another night in Jacksonville since the 6:55pm flight was the last. This gave me a chance to catch up on coverage, an extremely difficult task.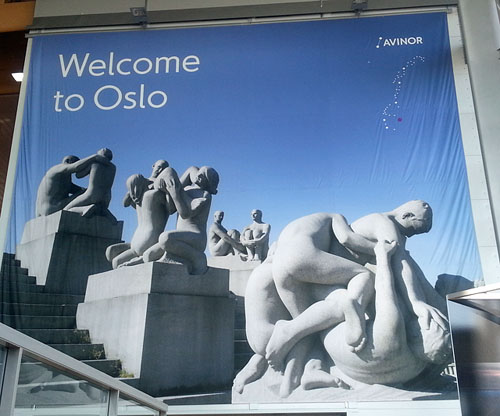 On the next day, I was able to get my flight to Norway without any issues. I watched "Divergent" on the plane and read a few more pages of "Outliers" by Malcolm Gladwell. On the layover in Oslo, I tried to catchup with my reports on Olympiad. I had to pay to get on an Internet service called "homerun".
When I finally got to Tromso, I collected my bags and prepared to get a taxi, but there was someone holding a sign "Chess Olympiad". They instructed me to get on the Olympiad van which then took me to the Radisson Blu. On the way, I took a few photos and was amused at a restaurant called, "Burger Man". The mountains were certainly the most obvious characteristic.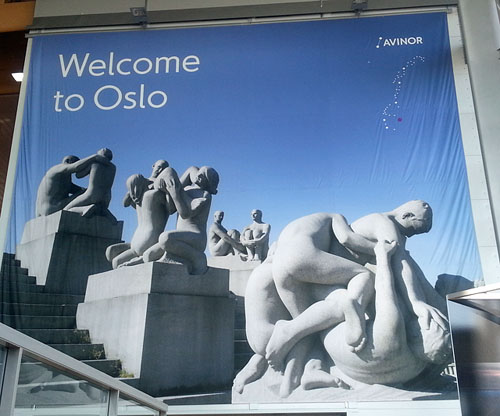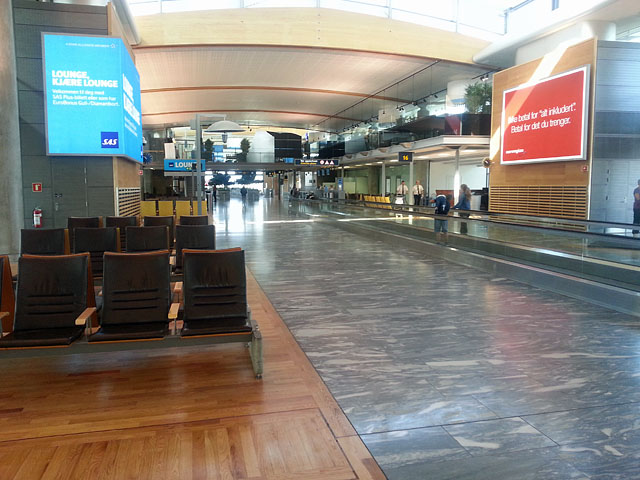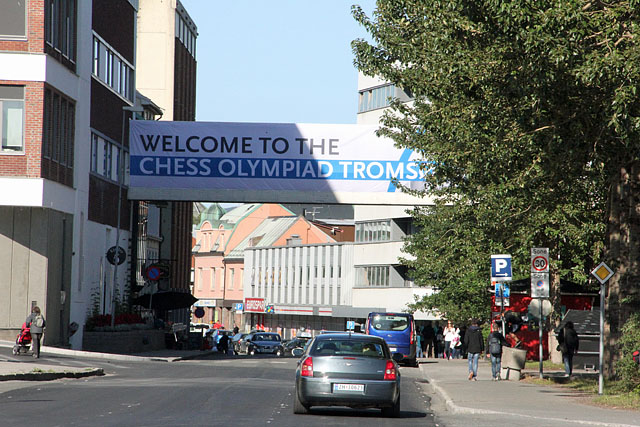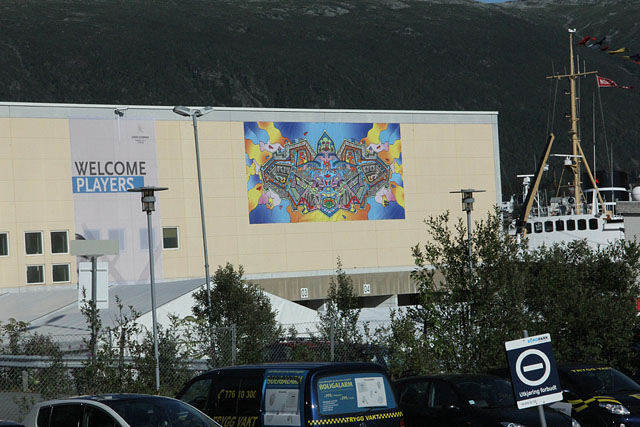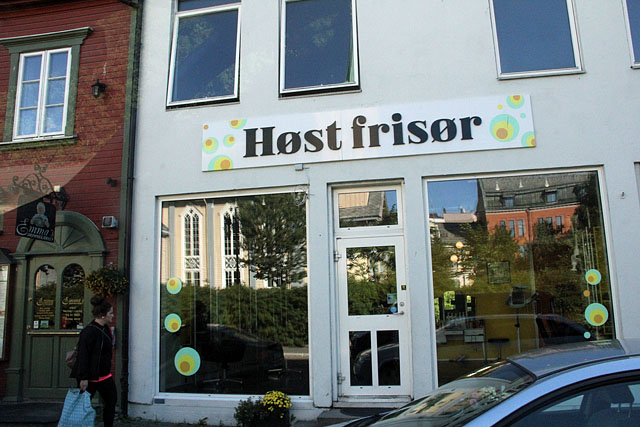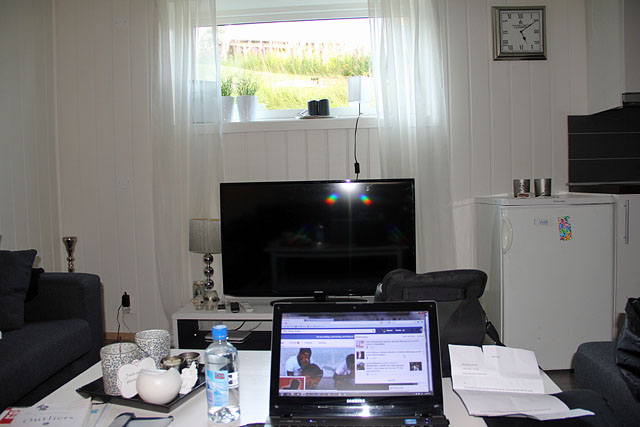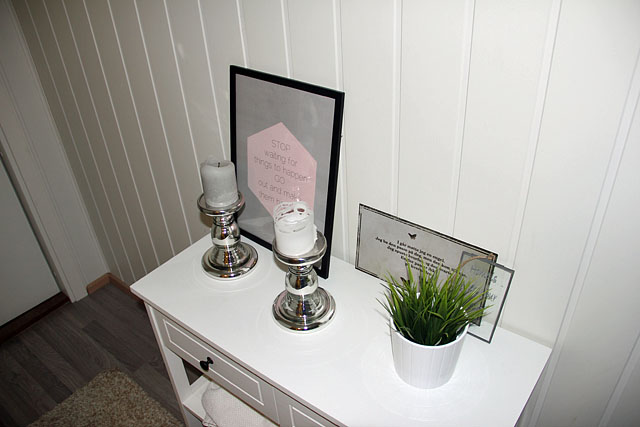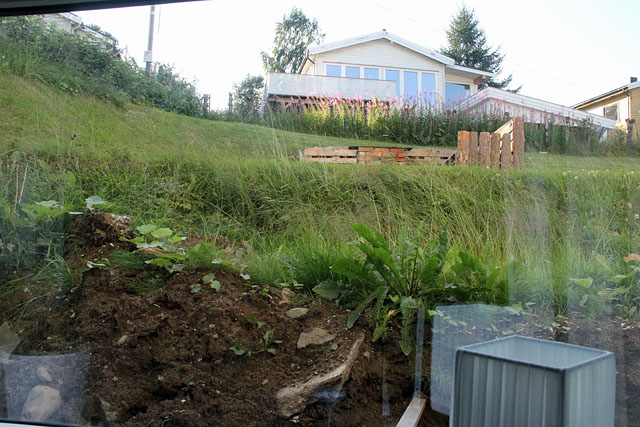 Finally made it… Norway!


CLICK to see larger images. Hover to get descriptions.
When I got to the Radisson, there was some initial confusion on my accomodation. Since there were no more rooms available, they had located an apartment for $900.00 for six days. Pricey. However, it turned out well since I was in a spacious apartment in a nicely-renovated basement… actually two apartments in one. The problem was that I had to walk 15-20 minutes to the venue. Twice I had to do so in a steady drizzle. I thought this was fun except I was wearing a suit on one of the rainy days.
Once I got settled, the first event for me was the "Polar Bear" festival hosted by the Garry Kasparov ticket. I received an e-mail invitation from Ian Wilkinson that I was on the VIP list. I didn't know exactly where the venue was, so I stopped at a hotel to ask around. There I saw Barthelemy Bongo of Gabon passing out literature about his case against FIDE. We chatted before I made my way to venue, but he was busy making his case with other federations. He pointed out a gentleman from the Sudan who was going.
When I got to the festival venue, I recognized many faces… players from a variety of nations and a few journalists. Peter Doggers of chess.com said hello as well as players and delegates from a variety of federations. There was a magic show being performed where the magician did a Houdini-like escape at the end, but then Ian (who had performed earlier) came onstage with a viking helmet and entertained the crowd. For a man to be such a high-powered lawyer, he certainly knows how to have fun.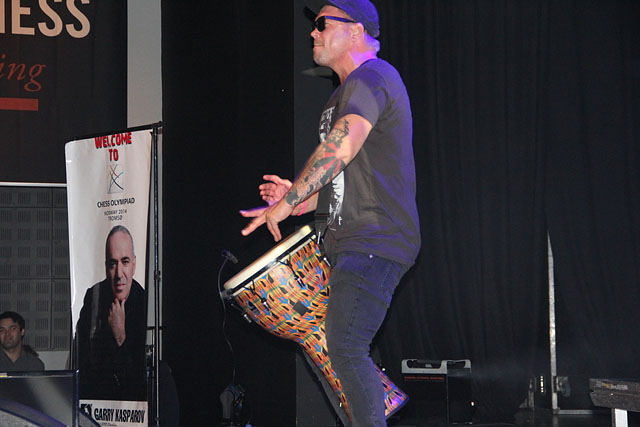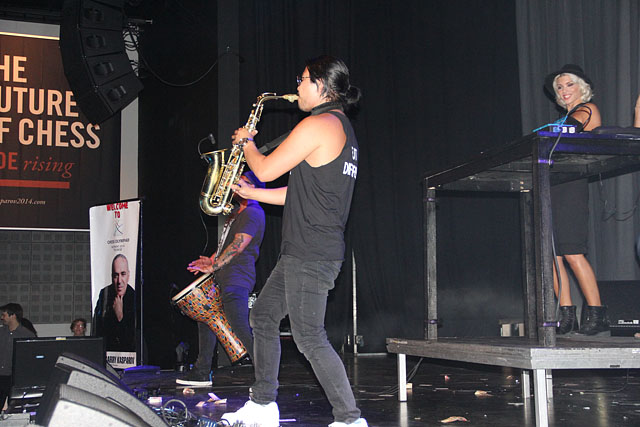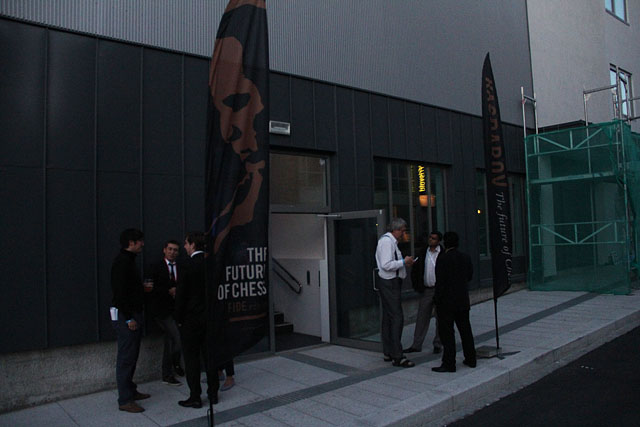 Kasparov "Polar Bear Festival"
CLICK to see larger images. Hover to get descriptions.
After the event I walked home and got my first experience of the "midnight sun". At 11:00pm, it appeared to be daylight and I took a photo. Then it began to get dark. After three hours of working on reports, the sun started peeking out again. I texted a picture to my sister both at 11:00pm and one at 2:00am. Of course, it is a hard concept to grasp.
My apartment was great (fully furnished), but the bedroom was slightly cooler, so I used my black windbreaker to cover my head from the daylight and for warmth. In the morning I indulged on the snacks I brought. Hikaru Nakamura had already warned me about the prices for food, so I stocked up on dried fruit, nutritional bars, almonds, seeds. I also brought my NutriBullet portable blender, but just like in Ghana, the converter couldn't handle the voltage. I stopped a second after I saw sparks flying.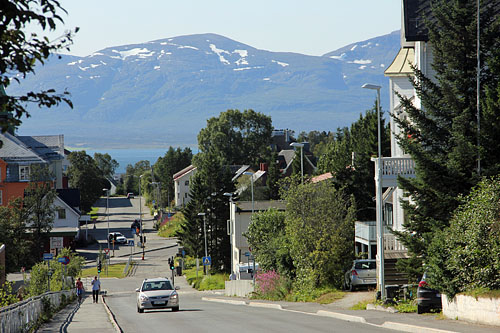 My morning route to the Olympiad Village… 15-20 minute walk.
It was a pleasant walk as I caught a glimpse of the mountainous landscape at a distance. My first Olympiad activity was the African Continent Congress at the Radisson Blu. I took photos and got an idea of the discussion. There was a discussion of proxy votes on the floor. There was a coffee break, so I decided to head to the venue for the 8th round of play. I saw Ian Wilkinson and stopped to chat. He invited me to stop at the Kasparov hotel to have lunch. Kasparov was in an animated discussion with a few people and Ian was summoned to a meeting so I ended up having lunch with Ian's ebullient wife, Shawn.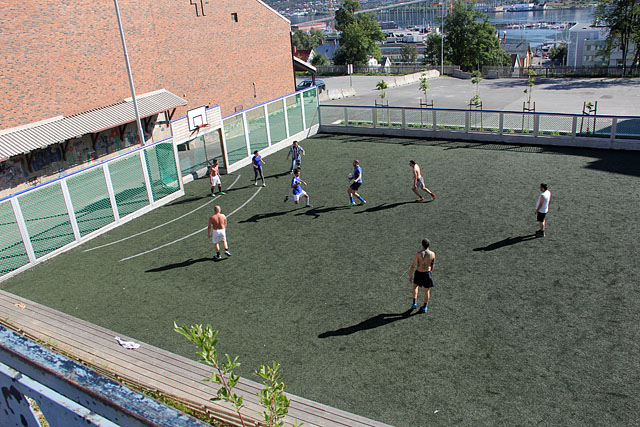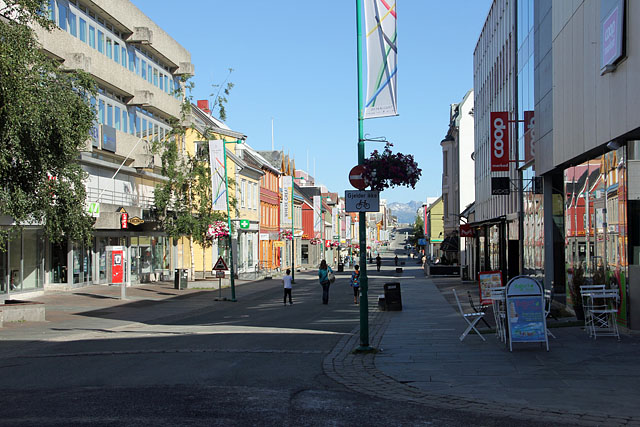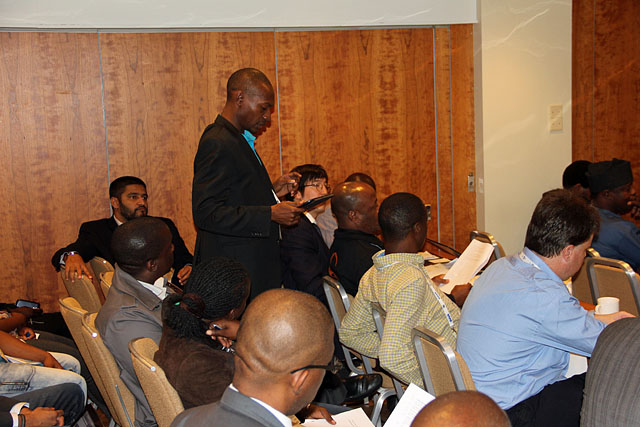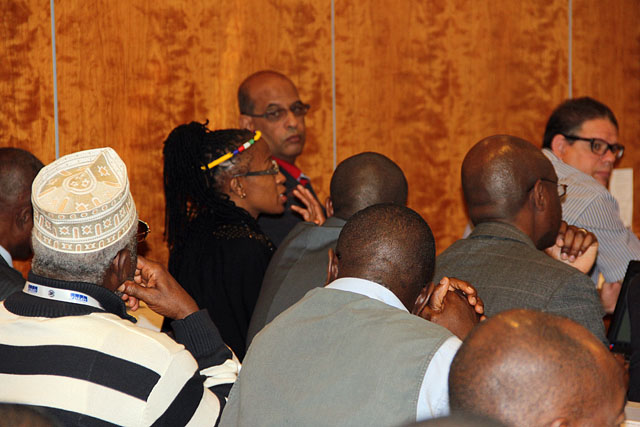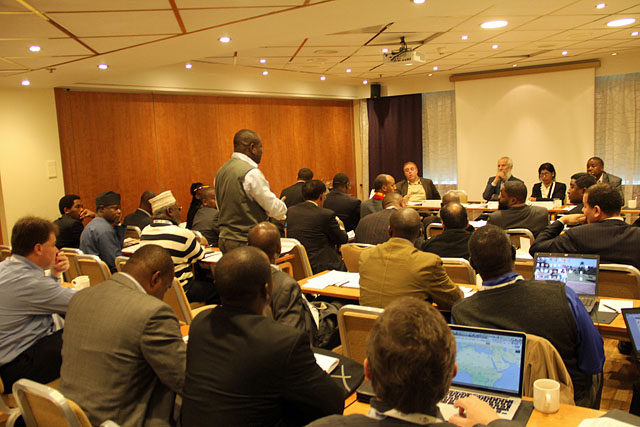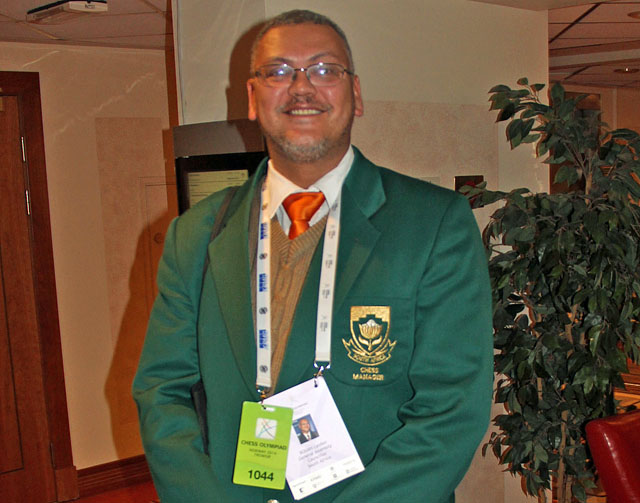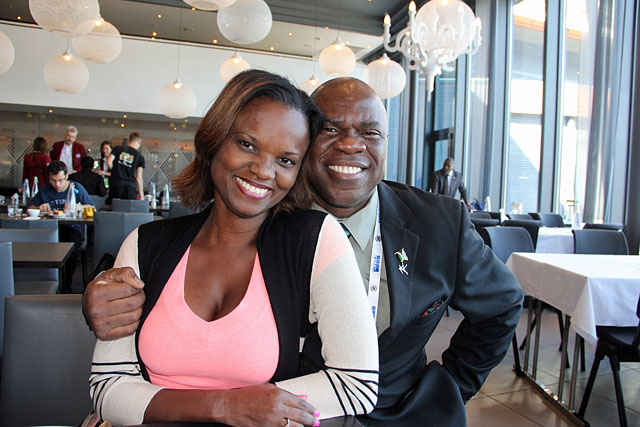 Norway sites… African Continental Congress… trek to Olympiad venue
CLICK to see larger images. Hover to get descriptions.
Ian finished his meeting and took the scenic route to the venue. I finally settled into the press area. Little did I know that the African meeting would later descent into chaos. This would become important later on. As I surveyed the playing area, I noticed that is was "irregularly-shaped" with players in different sections. Thus, I took my first set of photos in haphazard fashion. Occasionally, I'd run into a familiar face. I did get many good shots including photo of Kurt Meier of the Seychelles died of a heart attack in the final round. It was good catching up with many of the journalists including Cathy Rogers. I would later find out that players were no longer welcome in the press room to avert cheating attempts.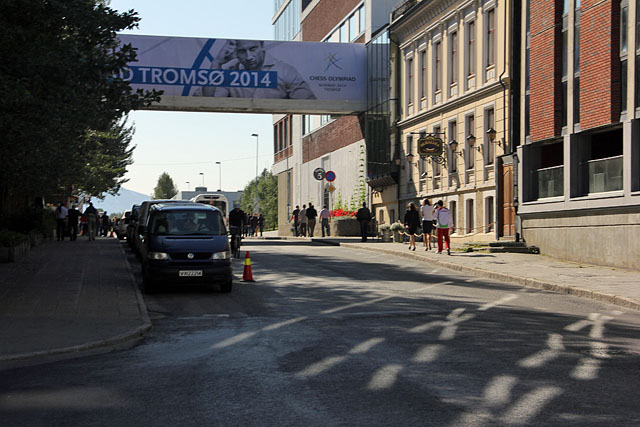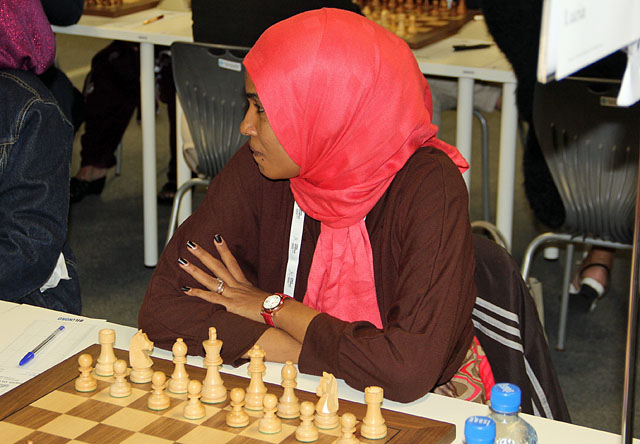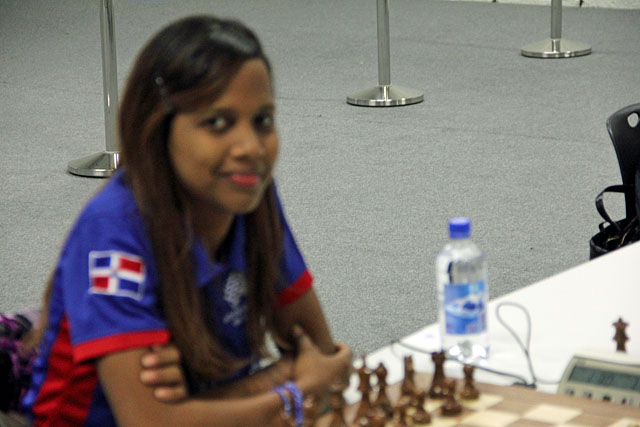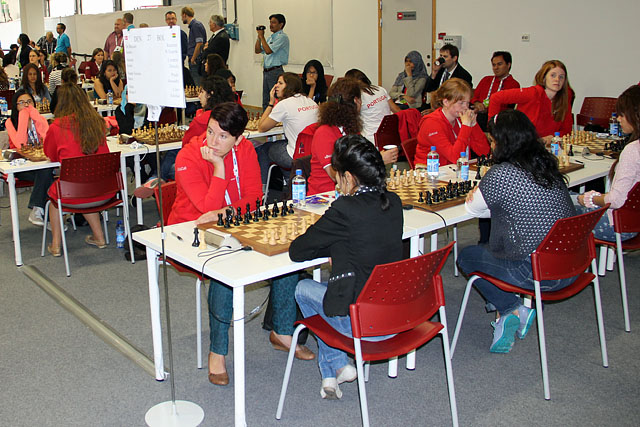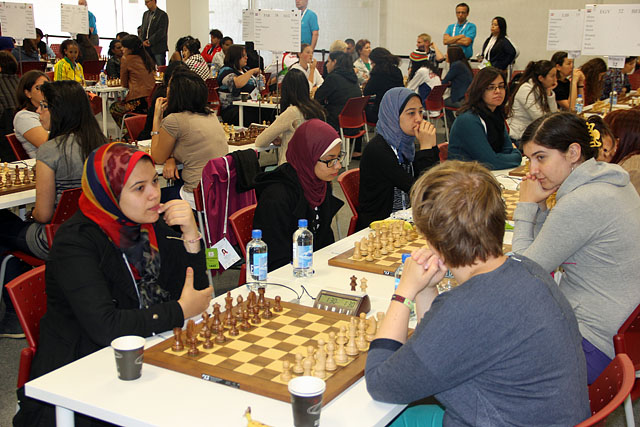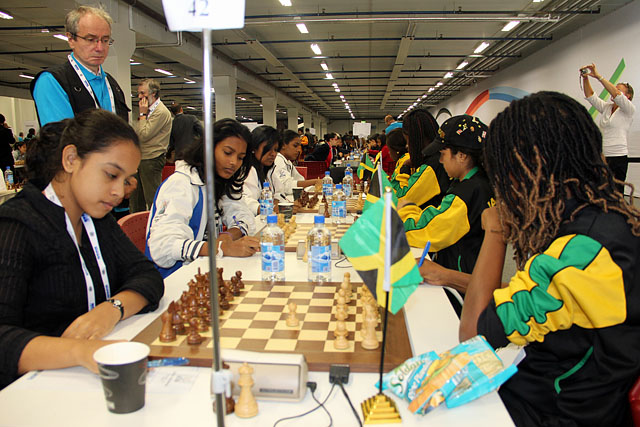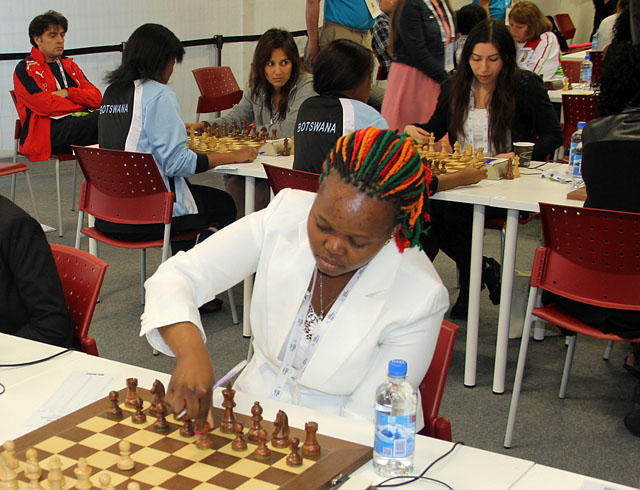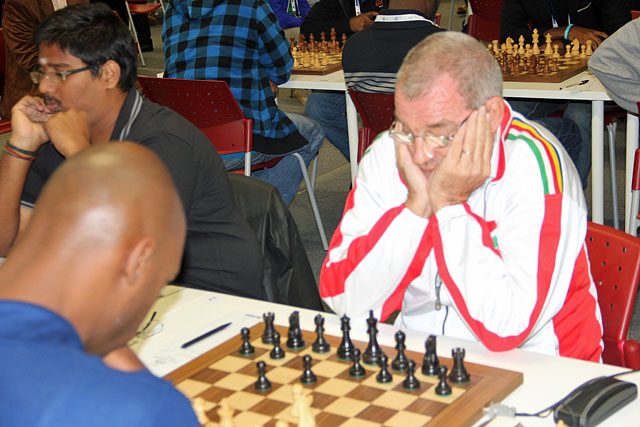 * * *
Round #8 in action!
CLICK to see larger images. Hover to get descriptions.
The next day was the long General Assembly meeting. I had to stop by the Radisson Blu to find out the location and hopefully get a shuttle. Fortunately, the delegate from Aruba flagged me down and asked if I was going to the General Assembly! I was on my way. The assembly took place in a cavernous auditorium as the federations were seated by zone. The translators were busy at work. I saw Githinji Hinga (Kenya) and Vianney Lugguya (Uganda) talking in the back.
Throughout the day there was a recurring theme around delegates and proxy votes, but the Gabon case was prominent in the discussion. I conducted several interviews including one with Dr. Jean-Claude Essoh who got into a shouting match with Georgios Makropolous over a point raised about attention to Africa. This represented a bad omen and there was more to come. Several FIDE officials had heated exchanges with African delegates… something I did not see with any other delegates.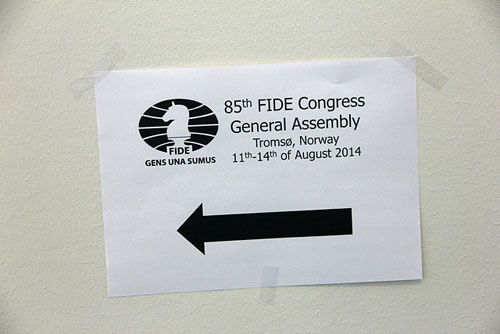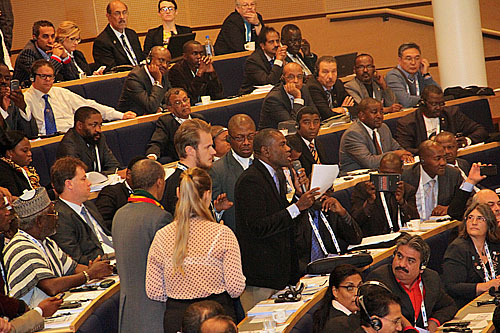 Dr. Jean-Claude Essoh of Cote d'Ivoire was a thorn in the side of FIDE officials as he repeatedly brought up uncomfortable points on Gabon and on FIDE's record in Africa. He was also heard in a shouting match with Georgios Makropolous during a coffee break of the FIDE Congress. Photo by Daaim Shabazz.
With one day of shooting photos under my belt I was able to get most of the top players and matches. I was also in time to see Nakamura's 1.b3 against Fernando Peralta of Argentina… and win! As you span the room full of chess players, there are so many stories. There are the world-class players, but there are the local heroes defending their nation's honor. The dotting of the hall with national colors, head adornments and uniforms is one that makes the Olympiad a unique experience. These expressions show national pride, but also an essence of unity in effort. It's wonderful to see.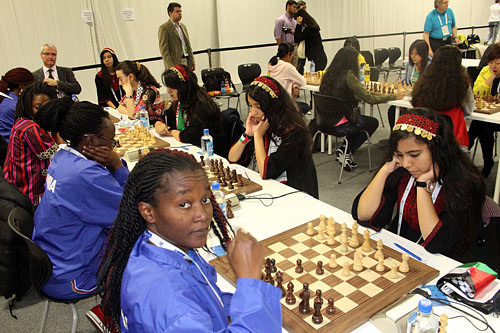 The Palestinian women drew a lot of admiration for their traditional outfits, national pride and words of peace. There were three sisters playing on the women's team. They gave numerous interviews including one for The Chess Drum. Photo by Daaim Shabazz.
Meeting others who are so passionate about chess gives one joy in knowing that they are part of a larger community. I remember meeting Sheryas Smith of Jamaica on the street. He was practically overwhelmed by the experience! For most, they will never attend an Olympiad, but for the chosen few it is one of indelible memories, lifetime friendships and associations. It is unfortunate when chess is boiled down to political associations and proceeds to drive a wedge between countries and even within federations. That much was evident in the African Assembly and the bidding for the 2018 Olympiad.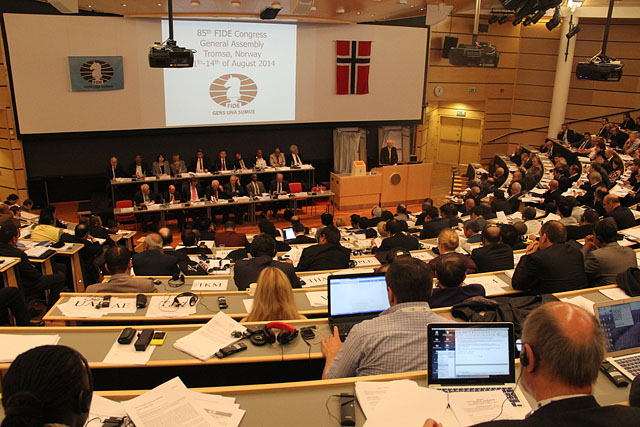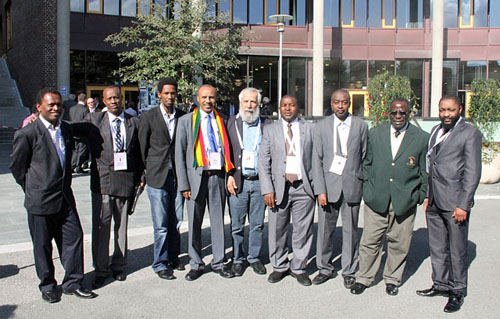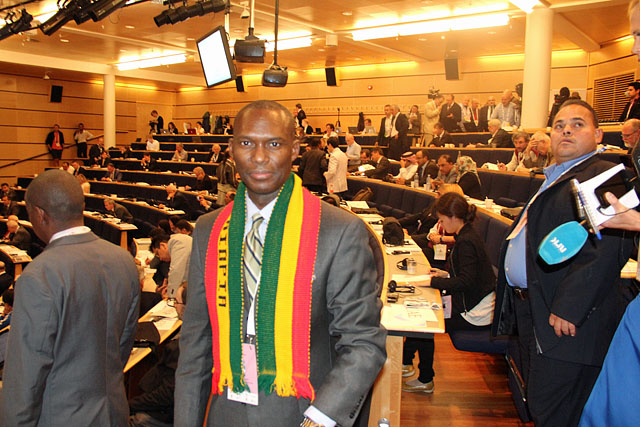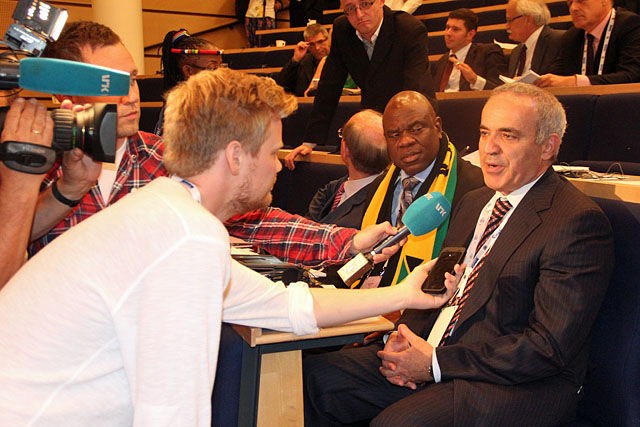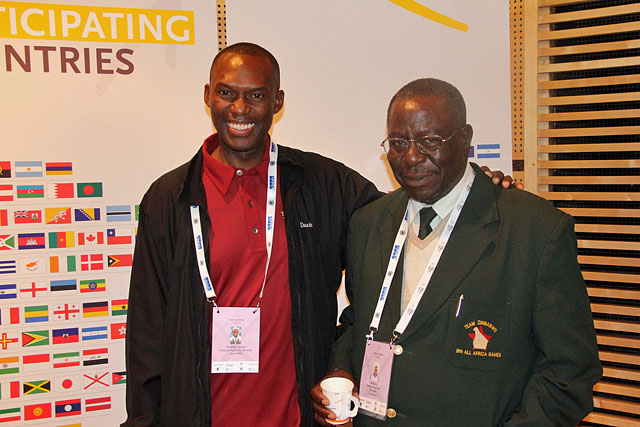 * * *
"GENS UNA SUMUS"
CLICK to see larger images. Hover to get descriptions.
I had an opportunity to make many new acquaintances and renew old ones. I was pleased to have interviewed a number of delegates and players and to understand their passion for chess. I also saw the tremendous effort being made by the Norway Olympiad Committee (NOC). There was highs (China and India) and lows (two deaths at the end of the tournaments). Of course there were glitches and logistical challenges, but the effort expended was appreciated in most cases. Certainly there will be improvements made in Baku, Azerbaijan and there will be no election (thank goodness). Below I leave with you memories from the Tromso Olympiad. Enjoy!
Best Memories of the Olympiad were…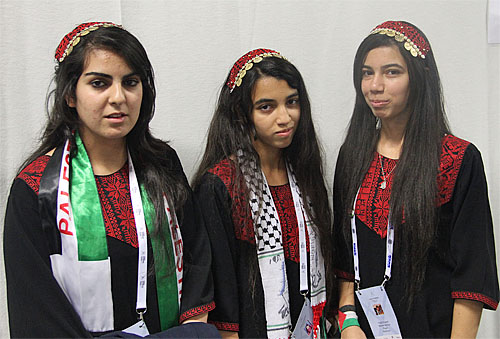 Palestine made quite a strong statement in this Olympiad in appearance and in their words. Yara Faqih, Rahaf Jehad Mohamed with Aseel Faheeq pictured on the right. One Palestinian teammate Anwar Al-Bzoor (not pictured) scored 8.5/9 on board five. Photo by Daaim Shabazz.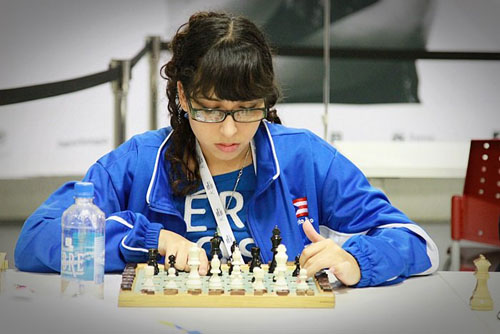 Natasha Morales Santos (Puerto Rico)
Photo by David Llada.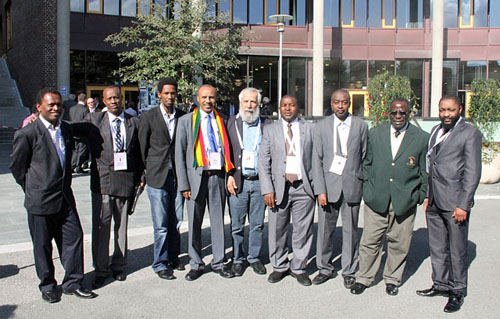 Officials from Burundi (2), Rwanda, Ethiopia, Algeria,
Malawi, Sudan, Zimbabwe and Namibia.
Photo by Daaim Shabazz.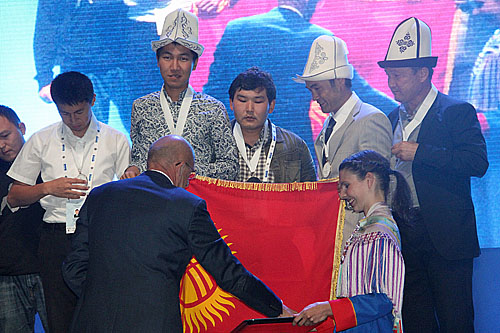 Kyrgyzstan winning a category prize evoked a cheer!
Photo by Daaim Shabazz.
Worst Memories of the Olympiad were…

…Tromso Airport upon departure. CRAZY!!!
… paying US$4.00-5.00 for snack bar. Fortunately, there was a "3 for 2" sale.
…the mistreatment of African federations repeatedly.
Israel Gelfer's comments about Africans being "lazy" and unable to hold a meeting.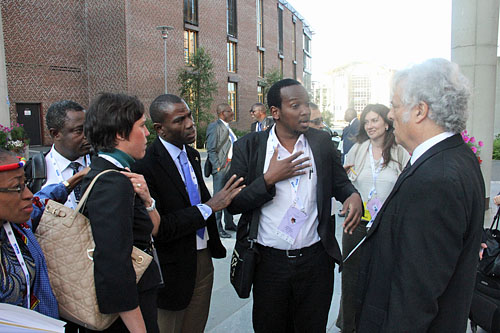 Githinji Hinga of Kenya expressing himself after Israel Gelfer called African federations "lazy" because of the rift created in the African Assembly. Here's part of the exchange.6:22 minutes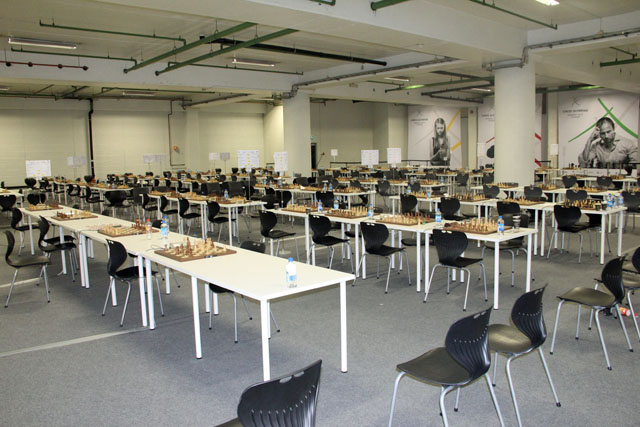 It's all over!

14 Responses to "Reflections on Tromso Olympiad"
Leave a Reply