Round #1
Thursday, 13 March 2014
2014 World Championship Candidates
March 11th-April 1st, 2014 (Khanty-Mansiysk, Russia)

Round #1

#

Name

Flag

Rating

Result

Name

Flag

Rating

1.1
Andreikin

2709

½-½

Kramnik

2810
1.2
Karjakin

2766

½-½

Svidler

2758
1.3
Anand

2773

1-0

Aronian

2809
1.4
Mamedyarov

2757

½-½

Topalov

2785

Games
Anand bolts out front with an impressive win over Aronian!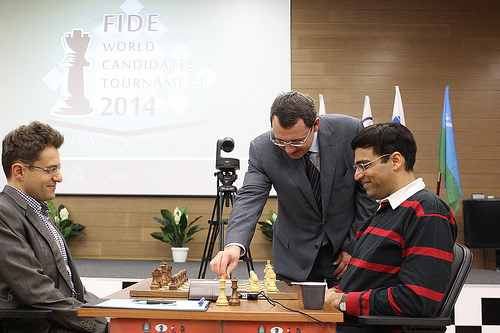 Two of the most personable players in the world, but all was not happy today.
Photo by FIDE.com.
The 2014 Candidates tournament is underway and it is the former champion who has bolted out into the lead with a rousing win over the presumed favorite, Levon Aronian. Viswanathan Anand certainly has something to prove after a lackluster performance in his title defense against Magnus Carlsen… in Chennai no less.
Anand and Aronian went into a type of Marshall Gambit, one of his main weapons. Aronian has been a bit inconsistent lately despite strong performances at Wijk ann Zee and Zurich. Again he starts with a loss, but it is a long tournament. In this game, Anand took advantage of a misjudgment and won a technical ending finally trapping Aronian's knight.
The Madras Tiger starts off the tournament auspiciously in a bid for a rematch against Carlsen. In today's game he looked to be energetic and in form. We shall see what follows.
Official Site: http://candidates2014.fide.com/
Drum Coverage: http://www.thechessdrum.net/blog/2014/03/13/2014-world-chess-candidates-khanty-mansiysk-rus/
Video Commentary by GM Daniel King
Standings
Viswanathan Anand, 1/1 (+1 -0 =0), Peter Svidler, .5/1 (+0 -0 =1), Vladimir Kramnik, .5/1 (+0 -0 =1), Sergey Karjakin, .5/1 (+0 -0 =1), Veselin Topalov, .5/1 (+0 -0 =1), Shakriyar Mamedyarov, .5/1 (+0 -0 =1), Dmitri Andreikin .5/1 (+0 -0 =1), Levon Aronian, 0/1 (+0 -1 =0)
3 Responses to "World Candidates 2014-1: The Tiger Pounces!"
on 14 Mar 2014 at 12:01 pm

1

Mikhail Patzerinski

I just don't think the Madras Tiger matches up well lately against Magnus; so if he comes out on top in this, Magnus might not be sweating as much as if one of the others wins. Personally though, I would hardly call this past World Championship 'domination' by Magnus as Anand graciously described it. Anand made some uncharacteristic unforced errors. But then again, It seems that everybody makes uncharacteristic errors against Magnus.

[Reply]

on 15 Mar 2014 at 12:41 pm

2

Guy

A rematch between Magnus and Anand would be a real fight! Anand seems to be vigorously pursuing that opportunity. So far, he's already defeated the #2 player and made light of Mamedyarov in the 3rd round. If he can keep up this momentum of winning the games he should win and keeps his stamina, he might get his wish for a rematch. I was upset with him last time around, because he started to go all out for the kill when the match was basically OVER.

[Reply]
Leave a Reply