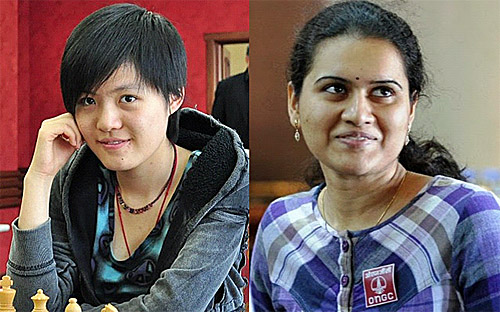 GM Hou Yifan vs. GM Koneru Humpy
The Women's World Chess Championships between champion Hou Yifan of China and Humpy Koneru of India starts at 2pm GMT (9am EST) on Monday 14th November 2011 in Tirana, Albania. This will be the third match between the two Asian rivals with Hou winning the previous matches in the 2008 and 2010 semi-final matches at the Women's World Chess Championships.
These two competitors will be carrying the weight of nearly 2.5 billion people. China has had four World Champions (women) and of course India has the overall World Champion in Viswanathan Anand. This match will be the first all-Asian World Chess Championship which highlights the changing in the balance of power.
2011 Women's World Chess Championship
November 14th-27th, 2011 (Triana, Albania)

Flag

9

10

Pts.

Hou

5½

Koneru

2½
Official Site: http://www.wwcc2011tirana.com/template.php?pag=1&tongue=ENG
11 Responses to "2011 Women Chess Championship (Tirana, Albania)"
Leave a Reply