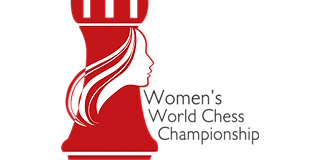 Today starts the Women's World Championship with most of the top players in the world. Of course, Judit Polgar has eschewed playing in the gender-based tournament, but as the gap closes, there may be more entrants into the upper echelon of chess. Two possibilities are from the Asian continent in India's Humpy Koneru and China's Hou Yifan. Both have shown their mettle amongst elite men and are favored to take over the crown from reigning champion, Alexandra Kosteniuk. Kosteniuk has held the title for two years, but has not been in top form lately. She will headline a field of 64 qualifiers from around the world. The winner will win US$60,000.
GM Alexandra Kosteniuk ready to defend title.
Photo by wwcxc2010.tsf.org.tr.
Time Control
The tournament will be a knockout format with the first five rounds being two games of 40 moves in 90 minutes with a 30-second increment for each move thereafter. There will be two tiebreak games with the entire game player in 25 minutes with 10-second increment per move. Thereafter will be two five-minute games with 10-second increment per move. If the score is level there will be one sudden death playoff with draw odds for black. White will receive five minutes and black will receive four minutes. Black only has to score a draw to win.
2010 Women World Chess Championship
December 2-25, 2010 (Antakya, Turkey)

#

Name

Title

Federation

Flag

Rating

1
Kosteniuk, Alexandra
GM
Russia

2507
2
Koneru, Humpy
GM
India

2600
3
Hou, Yifan
GM
China

2591
4
Kosintseva, Tatiana
GM
Russia

2581
5
Dzagnidze, Nana
GM
Georgia

2551
6
Stefanova, Antoaneta
GM
Bulgaria

2548
7
Muzychuk, Anna
IM
Ukraine

2530
8
Cramling, Pia
GM
Sweden

2526
9
Harika, Dronavali
IM
India

2525
10
Ju, Wenjun
WGM
China

2524
11
Lahno, Kateryna
GM
Ukraine

2522
12
Cmilyte, Viktorija
GM
Lithuania

2514
13
Chiburdanidze, Maia
GM
Georgia

2502
14
Socko, Monika
GM
Poland

2495
15
Sebag, Marie
GM
France

2494
16
Ruan, Lufei
WGM
China

2480
17
Mkrtchian, Lilit
GM
Georgia

2479
18
Zatonskih, Anna
IM
USA

2478
19
Zhu, Chen
GM
Qatar

2477
20
Zhao, Xue
GM
China

2474
21
Paehtz, Elisabeth
GM
Germany

2474
22
Hoang Thanh Trang
GM
Hungary

2474
23
Pogonina, Natalija
GM
Russia

2472
24
Danielian, Elina
GM
Armenia

2466
25
Muzychuk, Mariya
GM
Ukraine

2462
26
Shen, Yang
WGM
China

2461
27
Ushenina, Anna
IM
Ukraine

2460
28
Skripchenko, Almira
IM
France

2460
29
Dembo, Yelena
IM
Greece

2454
30
Zhukova, Natalia
GM
Ukraine

2447
31
Rajlich, Iweta
IM
Poland

2446
32
Turova, Irina
IM
Russia

2439
33
Khukhashvili, Sopiko
IM
Georgia

2430
34
Houska, Jovanka
IM
England

2421
35
Romanko, Marina
IM
Russia

2414
36
Munguntuul, Batkhuyag
IM
Mongolia

2409
37
Foisor, Cristina-Adela
IM
Romania

2403
38
Huang, Qian
WGM
China

2402
39
Ovod, Evgenija
IM
Russia

2387
40
Cori T., Deysi
WGM
Peru

2384
41
Shadrina, Tatiana
WGM
Russia

2384
42
Kovanova, Baira
WGM
Russia

2380
43
Ding, Yixin
WGM
China

2370
44
Zawadzka, Jolanta
WGM
Poland

2368
45
Fierro Baquero, Martha
IM
Ecuador

2363
46
Muminova, Nafisa
WIM
Uzbekistan

2360
47
Lomineishvili, Maia
IM
Georgia

2347
48
Zhang, Xiaowen
WGM
China

2339
49
Baginskaite, Camilla
WGM
USA

2336
50
Vasilevich, Irina
IM
Russia

2333
51
Soumya, Swaminathan
WGM
India

2332
52
Meenakshi Subbaraman
GM
India

2328
53
Demina, Julia
WGM
Russia

2323
54
Ozturk, Kubra
WIM
Turkey

2264
55
Caoili, Arianne
WIM
Australia

2242
56
Nadig, Kruttika
WGM
India

2230
57
Yildiz, Betul Cemre
WIM
Turkey

2225
58
Zuriel, Marisa
GM
Argentina

2208
59
Aliaga Fernandez, Ingrid
GM
Peru

2154
60
Kagramanov, Dina
WIM
Canada

2101
61
Mona, Khaled
WGM
Egypt

2093
62
Heredia Serrano, Carla
WIM
Ecuador

2087
63
Greeff, Melissa
WGM
South Africa

2082
64
Mezioud, Amina
WIM
Algeria

2029

Drum Coverage

| Round 1 | Round 2 | Round 3 | Round 4 |
| Semifinals | Finals |
Official Site
Games (TWIC)
Photos

22 Responses to "2010 Women Chess Cup (Antakya, Turkey)"
Alexandra Kosteniuk, Koneru Humpy and Hou Yifan have mauled their opponents in the first game.

[Reply]

From the French website Nadezhda Kosinteva said she missed two qualifiers. First, while preparing for her final university exams and the second time due to illness. She tried to qualify by rating, but she didn't make the cutoff. She could have gotten a spot as the President's choice, but that was given to a Turkish player because they apparently got two spots on the condition that they organize the tournament. Politics never seem to escape chess. She also made the point that old ELO ratings were used to determine the selections by rating.

Nadezhda Kosintseva: Pour différentes raisons je n'ai pas participé à deux championnats qualificatifs pour le championnat du monde. Pour le premier, avec ma soeur nous devions nous préparer aux examens de fin d'étude à l'université, puis, à Saint Pétersbourg, que Tatiana Kosintseva (2573) de 24 ans a gagné, et alors que je devais le jouer aussi, au dernier moment je suis tombée malade. Nous avons écrit une lettre à notre fédération pour qu'elle sollicite mon admission, en raison de l'augmentation de mon Elo lors des deux dernières années et parce qu'il restait une place disponible. Mais, comme ils me l'ont expliqué, le Elo est pris en compte entre juillet-2008 et janvier-2009 et à ce moment-là j'avais encore un Elo insuffisant. De plus, la nomination d'une joueuse par le président a aussi été donnée à la Fédération turque (qui posséde déjà une place en tant que pays organisateur), qui avait demandé les deux places. Autrement la Turquie ne se serait pas chargée du championnat du monde.

Source et interview complète sur: http://chess-news.ru/node/367

[Reply]

Round #1

In the first round of a two-game match, upsets are likely to occur. However, in the Women's World Chess Championship, there were no major upsets and the top seeds rolled to easy victories. Pogonina-Kovanova was decided in 15 moves apparently a cell phone violation. Defending champion Alexandra Kosteniuk, Koneru Humpy and Hou Yifan all crushed their opponents.

Full Coverage: http://www.thechessdrum.net/blog/2010/12/04/2010-womens-chess-championship-round-1/

Selected Games

Hou Yifan (CHN) 1-0 Carla Heredia Serrano (ECU)
Baira Kovanova (RUS) 1-0 Natalija Pogonina (RUS)
Tatiana Shadrina (RUS) 0-1 Dronavali Harika (IND)
Alexandra Kosteniuk (RUS) 1-0 Amina Mezioud (ALG)
Marie Sebag (FRA) 1-0 Irina Vasilevich (RUS)
Amina Mezioud (ALG) 0-1 Alexandra Kosteniuk (RUS)
Zhao Xue (CHN) 1/2-1/2 Martha Fierro (ECU)
Ruan Lufei (CHN) 1-0 Camila Baginskaite (USA)
Zhang Xiaowen (CHN) 1-0 Lilit Mkrtchian (ARM)

Round One Results (MS-Excel)

[Reply]

2010 Women World Chess Championship
Round #2 Pairings

#
Player
ELO

Nation

Flag

Player
ELO

Nation

Flag

1
Kosteniuk
2507

RUS

Khukhashvili,
2430

GEO

2
Koneru
2600

IND

Houska
2421

ENG

3
Hou
2591

CHN

Romanko
2414

RUS

4
Kosintseva
2581

RUS

Dembo
2454

GRE

5
Dzagnidze
2551

GEO

Skripchenko
2460

FRA

6
Stefanova
2548

BUL

Huang
2402

CHN

7
Muzychuk, A
2462

SLO

Ovod
2387

RUS

8
Yildiz
2225

TUR

Muzychuk, M
2462

UKR

9
Harika
2525

IND

Shadrina
2384

RUS

10
Ju
2524

CHN

Kovanova
2380

RUS

11
Lahno
2522

UKR

Hoang
2473

HUN

12
Cmilyte
2514

LTU

Paehtz
2474

GER

13
Chiburdanidze
2502

GEO

Zhao
2474

CHN

14
Socko
2495

POL

Zhu
2477

QAT

15
Sebag
2494

FRA

Zatonskih
2478

USA

16
Ruan
2480

CHN

Amin
2339

CHN

[Reply]

FLASH! More upsets in Game 1 of Round #2… Kosintseva falls to Elena Dembo. More details on all the action coming!

[Reply]

Round #2 – Game #1

The second round showed more competitive games. Hou Yifan played an interesting game with two nimble knights versus an advanced white king. Romanko's rook seemed impotent against the circular coverage of the galloping horses.

Full Coverage: http://www.thechessdrum.net/blog/2010/12/08/2010-womens-chess-championship-round-2/

[Reply]

Round #2 – Game #2

The Russians destroyed the competition in the 2010 Chess Olympiad in Khanty-Mansiysk going a perfect 11-0. It appeared that they were showing that Russian women are back on track to reclaiming excellence in women's chess. That goal took a tremendous hit as Natalia Kosintseva was eliminated today by Yelena Dembo.

Full Coverage: http://www.thechessdrum.net/blog/2010/12/08/2010-womens-chess-championship-round-2/#comment-16103

[Reply]

Round #2 – Tiebreak

In an unprecedented event, two more Chinese climbed into contention at the Women's World Championship in Turkey. There will be five Chinese in the "Sweet Sixteen" after Huang Qian ousted Antoaneta Stefanova in tiebreaks 2-0.

Full Coverage: http://www.thechessdrum.net/blog/2010/12/08/2010-womens-chess-championship-round-2/comment-page-1/#comment-16107

Selected Games

Marina Romanko (RUS) 0-1 Hou Yifan (CHN)
Tatiana Kosintseva (RUS) 0-1 Yelena Dembo (GRE)
Viktorija Cmilyte (LTU) 0-1 Elisabeth Paehtz (GER)
Koneru Humpy (IND) 1-0 Jovanka Houska (ALG)
Antoaneta Stefanova (BUL) 1-0 Hoang Thanh Trang (HUN)
Zhao Xue (CHN) 1-0 Maia Chibudanidze (GEO)
Baira Kovanova (RUS) 0-1 Ju Wenjun (CHN)
Almira Skripchenko (FRA) 1-0 Nana Dzagnidze (UKR)
Monika Socko (POL) 0-1 Zhu Chen (QAT)

Round Two Results (MS-Excel)

[Reply]

2010 Women World Chess Championship
Round #3 Pairings

#
Player
ELO

Nation

Flag

Player
ELO

Nation

Flag

1
Kosteniuk
2507

RUS

Ruan
2480

CHN

2
Muzychuk,M
2462

UKR

Harika
2525

IND

3
Dembo
2454

GRE

Zhao
2474

CHN

4
Skripchenko
2460

FRA

Cmilyte
2514

LTU

5
Koneru
2600

IND

Zatonskih
2478

USA

6
Muzychuk,A
2462

SLO

Ju
2524

CHN

7
Hou
2591

CHN

Zhu
2477

QAT

8
Huang
2402

CHN

Lahno
2522

UKR

[Reply]

Round #3 – Game #1

Alexandra Kosteniuk drew quickly against Ruan Lufei, but the defending World Champion had a bit of trouble in the game and was slightly worse in the final position. This result will give Ruan a bit of confidence since she has nothing to lose. She will play white against with the backing of the large Chinese contingent.

Full Coverage: http://www.thechessdrum.net/blog/2010/12/10/2010-womens-chess-championship-round-3/

[Reply]

Round #3 – Game #2
http://www.thechessdrum.net/blog/2010/12/10/2010-womens-chess-championship-round-3/#comment-16122

Round #3 – Tiebreak

The reign has ended for Alexandra Kosteniuk. She made a gallant stand to defend her crown, but was undone by Ruan Lufei, the talented Chinese student who is studying at Carnegie-Mellon University. Kosteniuk did not play well against Ruan whose style seemed to unnerve the champion.

Full Coverage: http://www.thechessdrum.net/blog/2010/12/10/2010-womens-chess-championship-round-3/#comment-16129

[Reply]

2010 Women World Chess Championship
Round #4 Pairings

#
Player
ELO

Nation

Flag

Player
ELO

Nation

Flag

1
Harika
2525

IND

Ruan
2480

CHN

2
Zhao
2474

CHN

Skripchenko
2460

FRA

3
Koneru
2600

IND

Ju
2524

CHN

4
Hou
2591

CHN

Lahno
2522

UKR

Preview: Looking at the quarterfinals, you have Koneru Humpy and Hou Yifan in the same bracket. That is unfortunate and probably an oversight. Apparently, Alexandra Kosteniuk is the top seed as World Champion, but it still would not explain Humpy and Hou in the same bracket since they would be #2 and #3. It appears as if Kosteniuk was given the best chance to defend.

Full Coverage: http://www.thechessdrum.net/blog/2010/12/12/2010-womens-chess-championship-round-4/

[Reply]

2010 Women World Chess Championship
Round #5 Pairings

#
Player
ELO

Nation

Flag

Player
ELO

Nation

Flag

1
Ruan
2480

CHN

Zhao
2474

CHN

2
Koneru
2600

IND

Hou
2591

CHN

Preview: As if on cue, China has made a statement on the world stage once again. They will boast three of the last four players in the 2010 Women's World Chess Championship in Antakya, Turkey. This will assure that at least one Chinese will play for the world crown. India will send their best into the semifinals and will try to become the first nation in a long time to hold both the men's and women's titles.

Full Coverage: http://www.thechessdrum.net/blog/2010/12/15/2010-womens-chess-championship-round-5/

[Reply]

2010 Women World Chess Championship
FINALS (Hou Yifan vs. Ruan Lufei)

Player
ELO

Nation

Flag

Player
ELO

Nation

Flag

Hou
2591

CHN

Ruan
2480

CHN

Preview: The stage is set and at the end of this final match, the glory will be China's once again. However, who will win the Women's World Championship Chess match? If that question is asked, you may be inclined to reply either "Yes" or "Hou" depending on how you understood the question. Journalists are getting ready with double entrendres seen in the comical YouTube video of George W. Bush asking about Hu Jintao.

Full Coverage: http://www.thechessdrum.net/blog/2010/12/18/2010-womens-chess-championship-finals/

[Reply]

Final – Game #1

If the first game is an example of what's to come, we are in for an exciting mini-match. Today's game entered the "Fantasy" variation of the Caro-Kann, an aggressive way of meeting the solid defense. After 1.e4 c6 2.d4 d5 white continues with 3.f3!? a move championed by 19th century master Savielly Tartakower.

Full Coverage: http://www.thechessdrum.net/blog/2010/12/18/2010-womens-chess-championship-finals/#comment-16262

[Reply]

Final – Game #2

After a tense draw on yesterday, these two settled down at the board to play the second of four games. Today's game was as exciting as yesterday's with a Sicilian Scheveningen battle. Hou's 13…Qb8, but her idea was to attack the queenside. It appears that this plan was a bit dubious after Ruan's 17.e5! led to a very active position for white.

Full Coverage: http://www.thechessdrum.net/blog/2010/12/18/2010-womens-chess-championship-finals/comment-page-1/#comment-16273

[Reply]

Final – Game #3

Ruan appeared to be on the verge of equalizing the match with an energetic attempt in the Caro Kann. The game simplified within the first 20 moves and it appeared that black had some chances with the two bishops. However, Ruan decided to give up the bishop pair and play on the queenside. She developed strong initiative with minority attack 26…a4! and eventually invaded queenside.

Full Coverage: http://www.thechessdrum.net/blog/2010/12/18/2010-womens-chess-championship-finals/comment-page-1/#comment-16280

[Reply]

Final – Game #4

After the ceremonial move, customary handshake, let the game begin! FIDE Vice President and President of Turkey Chess Federation, Ali Nihat Yazici looks on while Chief Arbiter Erdem Uçarku? starts clock. Photo by wwcxc2010.tsf.org.tr.

This game will go down as a lesson in match play. Hou was leading 2-1 and needed only to hold a draw to win her first championship. Ruan trotted out the hyper aggressive Keres Attack. Hou engaged a bit of bravado with 12…Qh2? This was refuted easily by 13.f4 and with black's queen entombed, white built up a a strong initiative.

Full Coverage: http://www.thechessdrum.net/blog/2010/12/18/2010-womens-chess-championship-finals/comment-page-1/#comment-16289

[Reply]

Final – Tiebreak

Ruan Lufei and Hou Yifan battle in tiebreaks with FIDE President Kirsan Ilyumzhinov on hand to crown the new champion.

If there were any doubts that Hou Yifan would win the women's crown today, those were quickly dashed after her convincing victory today. Even her opponent Ruan Yifan implied that she had little chance. However, Hou had a point to prove having lost to past champion Alexandra Kosteniuk and rose to the challenge. The tournament was a good one for challenger Ruan Lufei who has a promising career in the sciences after she completes her Ph.D. at Carnegie Mellon.

Full Coverage: http://www.thechessdrum.net/blog/2010/12/18/2010-womens-chess-championship-finals/#comment-16294

[Reply]

Grandmaster Hou Yifan, Women's World Champion

[Reply]
Leave a Reply