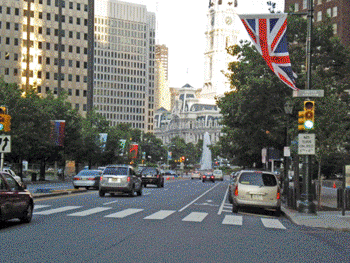 Photos from the 2008 event in downtown Philly.
Photos by Daaim Shabazz.
The 36th World Open will kick off on June 30th and host nine rounds of chess through July 6th in Philadelphia. Having carved out a niche as America's premier tournament, the $400,000 tournament draws some of the world's top players. This year, the venue will return to the aesthetically-pleasing downtown location after one year in Valley Forge.
* * *
The 36th World Open. July 2-6, 3-6, 4-6 or June 30-July 6, GPP: 300 (enhanced), Pennsylvania, USA

36th Annual World Open. 9-round Swiss, 40/2, SD/1 (4-day option, rds 1-2 G/75, 3-day option, rds 1-5 G/45). Under 900, Under 600 and Unrated Sections play separate 3-day schedule only, G/45. At Sheraton Philadelphia City Center Hotel, 17th & Race Sts., Philadelphia, PA 19103. Special parking rate for all players $5/day. Downtown location, Franklin Institute and many other museums as well as stores & restaurants within a few blocks.

Prizes $400,000 based on 1450 paid entries (seniors, re-entries, U1200 Section, GMs, WGMs count as half entries, U900, U600 & Unrated Sections not counted), otherwise raised or reduced in proportion, with $320,000 minimum (80% of each prize) guaranteed.

Details: http://www.chesstour.com/wo08.htm
Results: http://www.chesstour.com/wo08r.htm
Games: http://www.monroi.com

53 Responses to "2008 World Open (Philadelphia, USA)"
Leave a Reply