Back in June, I had an exchange with International Master Javier Gil, the creator of the website, Chessnia.com. I first visited this site in 2001 and remember writing him to ask if he would consider changing the fluorescent blue background of his site. He had interesting content, but it was very difficult to read for a long period of time. I got no answer or acknowledgement and did not visit the site very often.
Recently I was pleasantly surprised to click on Chessnia.com from my link page and saw that he had made visual improvements. My feelings were dampened when I visited his link page and found the following review of The Chess Drum: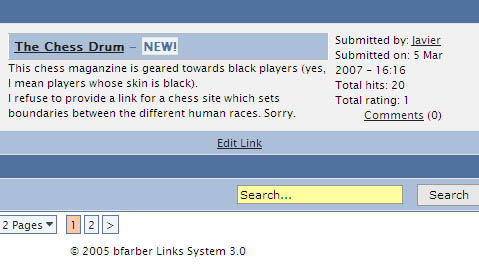 Puzzled by this mischaracterization, I e-mailed Mr. Gil to clarify the site's purpose and provided him a sketch of the site's universal reach. He responded by restating that the site is racist and he was embarrassed by it. He went on about how the chess world doesn't see race, skin color doesn't matter when viewing chess games and that we are "GENS UNA SUMAS" (one family).   
Of course, I responded once again to clarify, but I didn't hear back. So… I decided to pen an essay on this topic. Only one other time have I been openly castigated for having a "racist" site. I realize that there are some "haters" out there and it is expected. Nevertheless, The Chess Drum is here to stay and its focus will remain on people of the African Diaspora. I will never apologize for this.
HOWEVER, coverage of international events will continue to represent a segment because as chess players, we also want to know what is going on in the larger community and we deserve that right and privilege. I would hope to continue to bring exciting news about accomplishments within the Diaspora for all the world to see. Saying this, you have the question,
"Is The Chess Drum a Racist Website?"
Read his letter and the essay!
44 Responses to "Is The Chess Drum a Racist Website?"
Leave a Reply