2017 Women's World Chess Championship
February 10th-March 4th, 2017 (Tehran, Iran)
Match Scores (Semifinals)

Pairings

1
Tan Zhongyi

CHN

5-4

Dronavalli, H

IND
2
Muzychuk, A

UKR

2-0

Kosteniuk, A

RUS

Drum Coverage
| Round 1 | Round 2 | Round 3 | Round 4 |
| Semifinals | Finals |
Tan Zhongyi
Photo by David Llada
The first game of the semifinal matches began with a bang. Two Asian competitors faced off and in the other match were players from two European chess powers. Dronavali Harika and Tan Zhongyi (with surnames appearing first) started off calmly, but it appeared the Indian played too cautiously with her Nimzo-Indian. Essaying a solid setup, the Indian player played 14…Ng4!? The move looks like a one move cheap shot as it threatened 15…Bxf3 and 16…Qxh2 mate, but the idea was to force white to commit to playing h3 and weaken the kingside a bit.
Dronavali seemed to wander with 20….Qa6 and the queen and Tan grabbed more space. While white had a weak pawn structure, black had a solid formation and few worried, but after 23.Qg4, white's intentions were clear. They repeated moves twice, but the Chinese continued to forge ahead with the ambitious 26.Re4. Even though this move is apparently dubious, it has a psychological value. Engines don't like it, but they have no emotions. It is certainly a menacing move.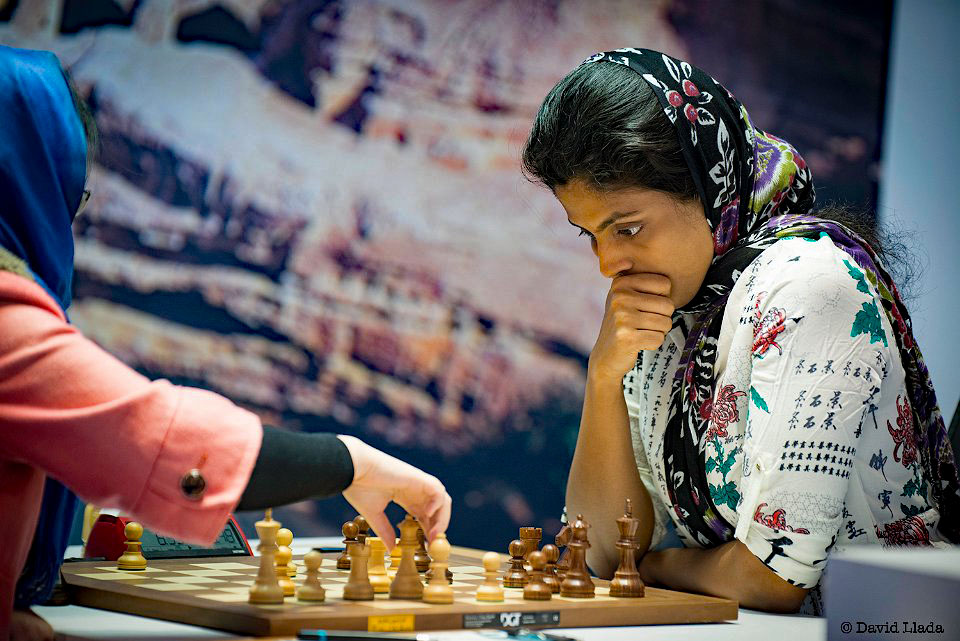 Tan Zhonyi on the attack with 35.Qf3 against Dronavali Harika
Photo by David Llada
Tan ended the game smartly with the picturesque 44.Rxh6!
The black queen kept flailing away on the queenside, not fully appreciating the pending trouble. Before Dronavali realized her peril, she had to scurry the queen with 33…Qh7, literally guarding the king. It wasn't enough. Tan played 34.Rf4, and at this point, the Indian knew she was in grave danger. She tried to solve her problems tactically, with 36…Nd7, hoping for 37.Rxf7 Qb1+! 38.Kh2 Nxe5 when 39.Rf8+ Kh7!-+ However, the Chinese player maintained the pressure. Finally the black queen became entombed the white rooks and the finishing blow came with 44.Rxh6! Dronavali resigned and must win to continue her historic quest.
Anna Muzychuk is the reigning women's blitz and rapid champion and is trying to win the classical. She would repeat the feat of Magnus Carlsen who held three such titles at once. The Ukrainian did not get off to a good start and it appeared she would have problems holding the position. Alexandra Kosteniuk got an favorable position out of the opening but no decisive advantage. Both players made some inaccuracies as time pressure loomed, but Kosteniuk missed a few knockout blows such as 32.Bxg7, 33.Bc5 and 34.Be3!
Nevertheless white had a pawn edge (after 41.Nxe6!) to go along with a queenside majority. Inexplicably, Kosteniuk continued to make mistakes. On 56.Ne5?? Muzychuk found 56…Ng5! and now the tide turned. With the devastating Rxe5 threat, white had to cede a pawn. After 57.Rb3 Nxh3+ 58.Kh2 Nxf2! black is up a pawn. Muzychuk pocketed another pawn after Kosteniuk played 60.Qb2? She probably was still in shock at the turn of events. The game ended swiftly after 64…Rf1 as white would suffer massive losses after 65.Kh1 Qe6! Kosteniuk will have to rebound in order to keep Russia's hope alive for a championship.
Games from WWCC2017 (Round 5, Game 1)
Today's games were must-win situations for both Dronavali and Kosteniuk. There were two Sicilians today as Dronavali-Tan was a Rossolimi and Muzychuk-Kosteniuk was Sicilian Taimanov. Incidentally, Dronavali turned the position in a type of Ruy Lopez structure, but Tan overextended on the queenside and dropped a pawn. Tan sacrificed a pawn for counterplay, but Dronavali returned the pawn.
Fatigue must be setting in because Tan dropped another pawn after 40.Nxa5 and white was now clearly winning. Suddenly the Indian player launched at attack after 50.h5 gxh5 51.Qc1 (or 51.Qc7!), but the game got a bit murky. Dronavali actually missed mate after 56…f5?? For example, 56.Qe7+! Kxc8 57.Bd3! White still carried the advantage but needed the services of her passed pawn.
The queens came off and black had to sacrifice her pieces to stop the white pawns setting the stage for another bishop and knight mate. It may be the first time in awhile that we've seen two in one tournament. Dronavali actually show some poor technique in executing the maneuver and allowed the king to escape a few times before getting the right formation and delivering the mate. As in Stefanova-Buska, mate was not allowed.
"Monstrous game!" (Miro) After 162 moves & cutting it very close Harika forces tiebreaks! https://t.co/eSKWDViyi4 #c24live #WWCC2017 pic.twitter.com/jtnrlb65OX

— chess24.com (@chess24com) February 24, 2017
Anna Muzychuk and Alexandra Kosteniuk prepare to play with an inspiring background. Photo by David Llada
In the Muzychuk-Kosteniuk game, the Russia misplayed the opening and there followed a Maroczy Bind set. Kosteniuk played the speculative 6…Bc5 instead of 6…Bb4 and never got close to equalizing after 7.Nxc6 bxc6 8.e5 Ng8. With only a draw needed, white swapped queens and there was no hope to win for black. In fact, white was better with an advantage in space and the two bishops. It was simply a smooth win for Muzychuk as she closed the match and will try to win the "Triple Crown" in the finals.
Games from WWCC2017 (Round 5, Game 2)
Official Website: http://tehran2017.fide.com/
Live Games: http://tehran2017.fide.com/live/live.html
All PGN Games (TWIC): http://www.theweekinchess.com/